Hello Gorgeous!
There are many strategies to adopt when you begin your dress search. Start with narrowing down silhouette, neckline, textile, price range, or you can start by researching and choosing designers you would like to wear.
In the spirit of focusing on designers, once a month, the girls at Bitsy like to take the opportunity to show off one of the lines that we carry in store and why we have so carefully selected them to be part of our collection.
February's designer line is CHRISTOS Bridal. Meet our dress of the month:
Tinsley, by CHRISTOS.
Tinsley is a perfect example of everything you can get from a CHRISTOS gown. Precision and detailing, luxe simplicity, quality, and a design worthy of the big screen.  
Precise Detailing
Every detail of a CHRISTOS gown is made with purpose and care. You will not find patterns in the lace that are unflattering on the curve of the waist and you won't find hems that are forgotten or an unimportant part of the design. Every piece of a CHRISTOS gown is an integral part of the design. Leaning heavily on Alencon laces, CHRISTOS gown are incredibly detailed and often delicate. However, don't confuse detailed with "busy" as CHRISTOS gowns are anything but.
Luxe Simplicity
Simple can often be seen as a "taboo" word in bridal. No one wants to feel like they could walk into church or their best friend's birthday party while wearing the wedding gown and everyone would think they were wearing a cute white dress. This is never a problem with a CHRISTOS gown, as their simplicity is paired with luxe fabrics and impeccable designs. Silk chiffon is often found in CHRISTOS gowns, adding to the luxe feeling of the dress. Take Tinsley for example. She is made of layers of silk chiffon giving her an incredibly airy and regal feel.
Quality
Ranging from $2900 – $3600, CHRISTOS gowns are worth every penny. The flattering cuts, thoughtfully chosen textiles, unparalleled designs and the air of bridal magnificence that they exude proves that a CHRISTOS gown is a wonderful investment for your big day.
Hollywood Worthy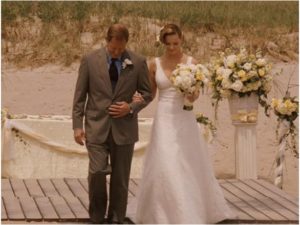 This may not be the biggest reason to consider a CHRISTOS gown, but it's definitely a good one. Hollywood loves CHRISTOS designs so much that they are featured in multiple feature films including, 27 Dresses, My Best Friend's Girl and An Accidental Husband.  Let's be honest, if it's good enough to wear while you marry James Marsden…… 🙂 
Are you considering a CHRISTOS gown for your wedding? Have questions or want to try some on? Give us a call or sound off in the comments.
Until next time,
XO Becca