Some of the Best Things Come in Twos!
A two piece gown can really make a statement and add to your comfort!
Two piece gowns are in! They are chic and comfortable and will definitely make you stand apart from the crowd! Today I want to highlight a couple of gowns from a couple of our favorite designers, Hayley Paige and Mikaella and talk about the look of two piece gowns!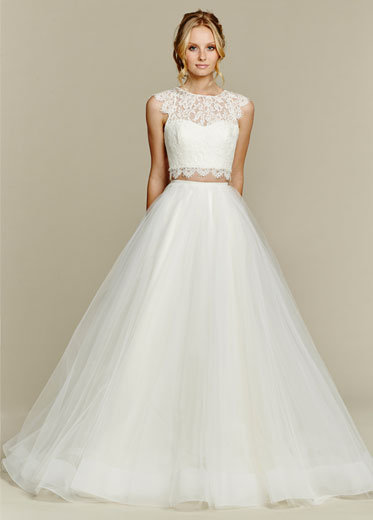 This gown is by the lovely Hayley Paige and her, exclusive to Bitsy, Blush collection! This two piece gown gives you the best of both worlds.  A little bit of poof and some boho lace in the bodice.  With a gown like this you can still feel comfortable while making a bold entrance and a stylish fashion statement.
This two piece gown by Mikaella takes the look in a different direction. With this style you get comfort and class! The gorgeous lace gives you a sense of youth while the bottom skirt hugs your figure and tells the world that you are elegance! The crepe bottom is so breathable and figure flattering that it really take the two piece look to the next level. This gown is also technically a three piece gown! It comes with the lace bodice with a crepe camisole underneath so you can wear lace for the ceremony and then have an adorable all crepe look for the reception!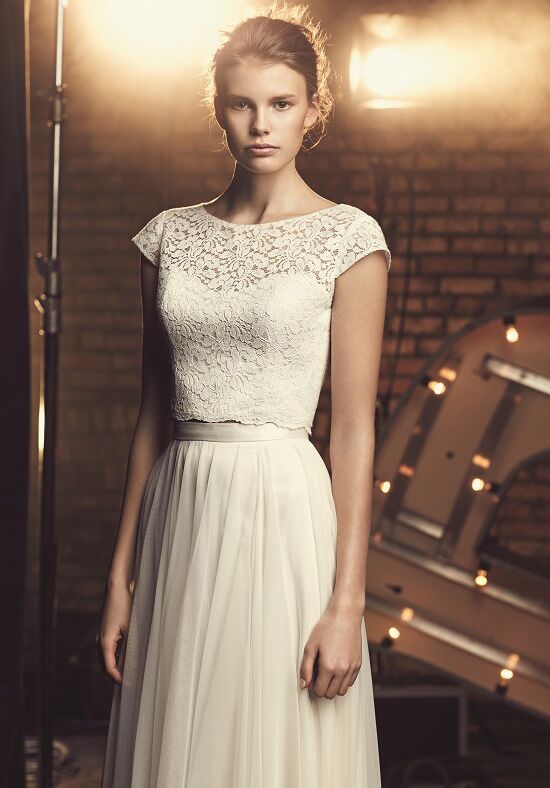 To finish us up, I wanted to showcase another beautiful Mikaella gown! this one is the perfect balance between the Hayley Paige gown and the previous Mikaella. With an a-line fit, this gown combines comfort and elegance. With a slight mocha color to it, this dress has dimension and class. It is one of our favorite two piece gowns and it continues to dazzle with is amazing comfort and style.
Two piece gowns sometimes get a bad rap, but there are so many ways to make the look beautiful and bridal! You never really know until you try! If you want to try on the wonderful Mikaella gowns or even the Hayley Paige, give us a call or book an appointment online to see if a two piece gown could be the one for you! Check out out other Bridal Look posts for some more ideas on what you want in a gown!
Hope to see you ladies soon!!
-Stacie